20 August 2020
ICYMI
Our head pastors Scott and Stephanie Jones were interviewed on Live 5 News recently about how we have been handling doing church during COVID19. Check out the video here: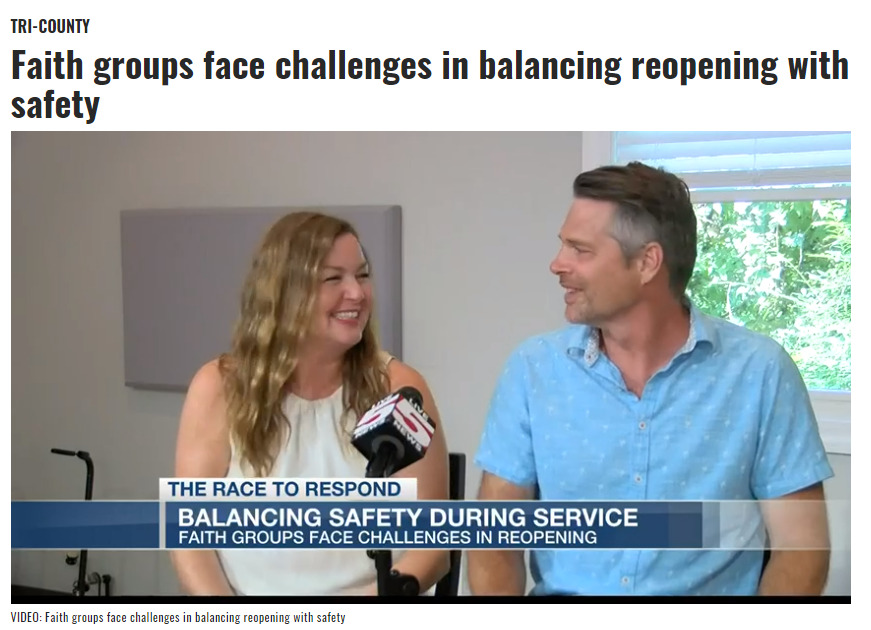 Keep reading, the news keeps getting better!
We also announced the return of Popup Church! We will have popup locations available throughout the Summerville area for Sunday the 23rd and 30th. Register for the location of your choice here.
We are still working on plans for meeting in the first two weeks of September.
However, we secured The Green Barn at Carnes Crossroads for SIX WEEKS! Starting September 20 through the end of October we will be meeting at The Green Barn (weather permitting).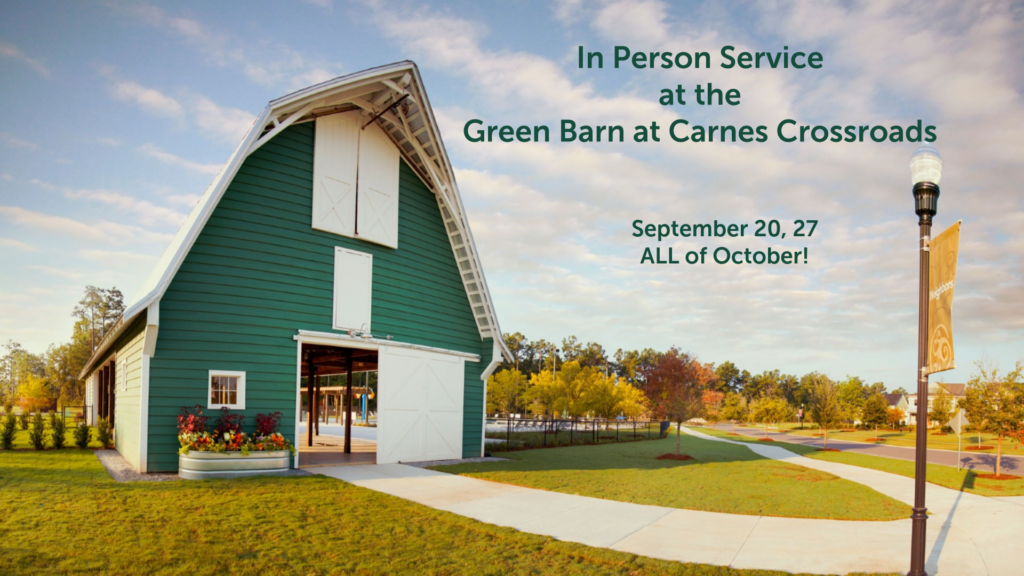 No need to register for this event but be aware that it is outdoor and there will be no children's ministry. We also ask that you bring your own seating (chairs, blankets, etc).
New Day Youth Camp is next weekend! Register to attend.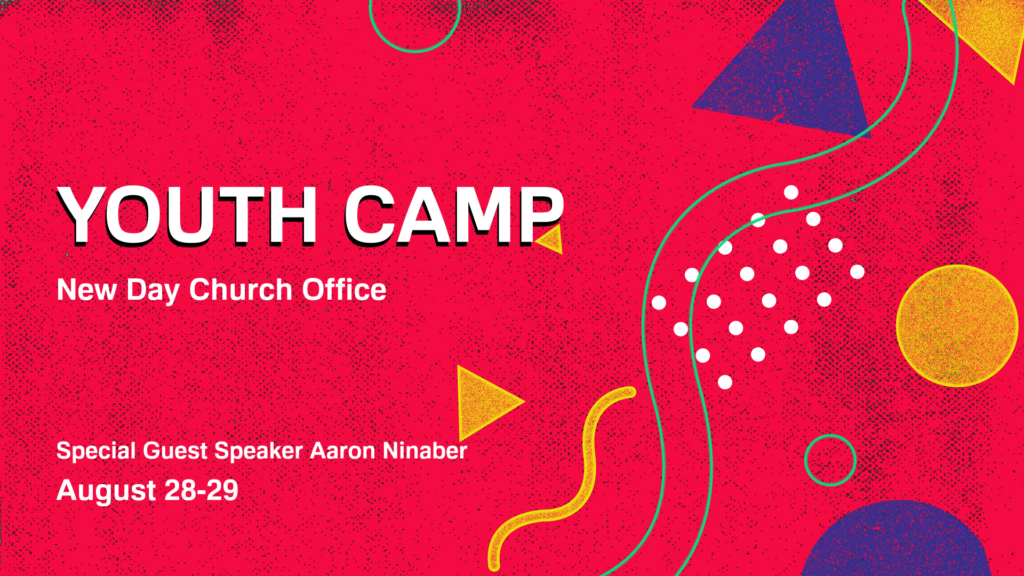 Groups:
Homeschool group meets next Monday the 24th at the Church Office. Please register here if you plan to attend.
Next week we wrap up the Wednesday night Community Group.
Women's Bible Study Zoom continues until the end of October. We also have the next Brunch scheduled for September 28th at the Church Office. Please register here if you plan to attend.
Friday morning Men's Bible Study keeps going strong.
Exploring Eschatology: Concerning the Rapture starts September 9 and continues to the end of the month. This class will be offered IN PERSON as well as on Zoom! Register here.
---
---
24 June 2020
Popup Church Registrations are live for the upcoming Sunday. We will have the Gordon's, a missionary couple our church is connected with, here to share with us during service. You can watch the video below to learn more about them in the meantime if you're interested.
Head to the events page to register for the location of your choice. If you plan to come to the Church Office please note that we are limiting childcare at the Church Office on Sunday mornings to kids aged 7 and under. Kids 8+ are welcome to stay in the Wellspring building for the adult service.
Don't forget that Sunday, July 5th, we will have guest speakers Seth & Sarah Gerber for the live-stream service at 10AM EST. This will be a live-stream ONLY service.
Later that evening we will be meeting all together in the gymnasium at KUMC where the Gerber's will share more of what the Lord put on their hearts for us. Registration for this event is live so head to the events page to register. Childcare will be available.
July 14th we have a special joint service planned at New Vision Cathedral church off Lincolnville Road. This will be live streamed. Details are still being ironed out and an event registration will go out once we know more.
We will resume Popup Church in people's homes on July 28th.
We will continue to have typical weekly events:
Tuesday morning Prayer & Worship at 9:15 AM EST (in person & live-streamed)
Tuesday evening Youth Group (in person)
Friday 6AM Men's Bible Study Zoom Group
Upcoming events:
---
18 June 2020
We are continuing Popup Church locations in the month of July with slight modifications.
July 5th we will have a live streamed service ONLY at the Church Office with guest speakers. There will be no house churches that day. We will also have a special evening service that night at KUMC. Details to be released soon.
July 12th will be another special service, a joint service, at New Vision Cathedral in Lincolnville. Details forthcoming.
July 19th & 26th we will resume Popup House Churches.
*All events will require a registration. Keep an eye on the events page for when those go live.

**Event times and details will be published as they are finalized and are subject to change.
---
28 May 2020
This coming Sunday is Pentacost Sunday!
Hopefully you have signed up to attend Popup Church at one of the host locations for Sunday. If not, you can easily register through the events page on the website.
We recognize that not everyone is comfortable yet in gatherings and not everyone is physically located in the Charleston area; as such, we will continue to live stream service at 10AM EST as usual.
We have a few other events updates to share for the upcoming month, all of which can be found on the same events page of the website:
Women's Group is having a Breakfast Social on June 6th 10AM EST at the Church Office. Bring a dish to share (single serving or something easily portioned out is best). Register here.
New Day is hosting a Homeschool Q&A Forum at the Church Office and on Zoom on June 7th. A local homeschool association owner/director will be on the panel as well as a few homeschool parents from our church. Any and all are invited to attend; you do not need to be a member of New Day to participate in this meeting. Children are welcome but there will not be childcare. Please RSVP here.
We are reviving our House to House Worship series! It will be hosted at the Paul's house in Carnes Crossroads starting at 6:30 PM. Register here.
As always, keep an eye out for updates on the app, social media, and the website.
---
14 May 2020
Did you see the exciting announcement on Tuesday about The Green Barn at Carnes Crossroads? We were very excited about the opportunity to meet there; however, that plan has fallen through unexpectedly and we are no longer able to meet there. Meeting at the YMCA is currently not an option either as they are maintaining strict adherence to guidelines. These are certainly unusual times here and worldwide.
But, we are still excited! We are still hopeful for a solution! And, we are not afraid! Stephanie had a word from the Lord seven years ago about a disruption that will prevent us from being at the YMCA but that will result in amazing things for our church and we believe right now we are seeing this word fulfilled.
So, we will carry on with live streaming from the church office on Sunday as we have been doing these past weeks. We want to encourage you to consider to safely gather in small groups and watch service together. Keep in touch with us and what's going on through this site, social media, and email. We will share any updates as soon as they are ready to be released.
Be well and be blessed, everyone!
---
28 April 2020
Have you missed the daily content you saw the first two weeks after the shutdown? Been wondering what the "plan" is? Read on for a bit of a 'behind-the-scenes' and a few updates...
As an initial response to the crisis emerging through the shutdowns, the New Day leadership and staff wanted to do everything we could to ensure our church family still felt part of a community, stayed engaged, and felt supported. We churned out lots of videos- consistent live streaming of Tuesday prayer and Sunday service, fun challenges, encouraging words, teachings, and much more. We loved seeing everyone here in South Carolina and throughout other parts of the US and even the globe (really!) engage with us.
However, we realized we had reached a saturation point with online content so decided to start the Online Connection groups to better facilitate connection and community during the separation. We will be launching another 4 weeks of the Wednesday & Thursday Online Community Groups the second week of May. We also restarted the Women's Bible Study and have plans hatching to start Zoom meetings for the younger kids to be able to 'hang out'. If you've been watching the Sunday services you'll know that the Lord spoke to Stephanie many years ago about such a time as this; we have had fun and held on for the ride on which the Lord is taking us. We hope you've had a bit of fun, too.
Here is a list of what is going on every week at New Day, even during these stay-at-home times:
Sunday: Service live stream 10:00 AM EST
Tuesday: Prayer & Worship live stream at 9:15 AM EST | Youth Group 6:30 PM EST
Wednesday: Online Community Group 7:00 PM EST | Prayer 7:00 PM EST
Thursday: Women's Bible Study 10:00 AM EST | Online Community Group 7:00 PM EST
To join any of these groups, head to the Groups page and register. Keep an eye on social media (@newdaychurchsc on Facebook, Instagram and YouTube) for updates.
---
12 April 2020
Today is Easter! It is a day to celebrate Christ's resurrection and victory. Christ broke the power of death at the cross. Do not let the circumstances of the world right now distract you from the fact that Christ has OVERCOME THE WORLD!
This week, our Online Community Groups continue on Wednesday and Thursday nights. You can register on the groups page or at the link below.
We are also re-launching the Women's Bible Study THIS THURSDAY MORNING!
Remember you can find lots of great updates and contents here on the website, in the app, or on Social Media @newdaychurchsc
---
10 April 2020
Good Friday live stream will be starting at 11:00
Easter service will be live streamed starting at 10:00 on Sunday
---
1 April 2020
We have been running things exclusively online for a couple of weeks now. Hopefully you've been able to tune in to the live streams, enjoyed the daily content videos that we have been sharing, or joined a Bible study. Despite the wonders of the internet age that we live in and the ability it gives us to be together while being apart, we know this doesn't replace real human interaction. So, We are using this opportunity to pilot some Community Groups.
What is a community group?
Why bother?
Who will be in my group?
How long will it last?


These may be some of the questions going through your mind. Community groups are important at this time so that we can stay connected with one another and hear a little bit about what is going on in one another's lives. Each group will be comprised of various couples or individuals in the church. The group should last about an hour. Scott and Stephanie Jones will be popping in on each group.
We're starting with two groups; one will be led by Joshua & Sarah Slye (meeting on Wednesday nights) and the other by Mark & Ginger Widener (meeting on Thursday nights). Both groups will meet on Zoom, a video conferencing service.

Click here to join a Community Group today and you'll have the cure for the quarantine blues! These start next week so sign up soon!
---
24 March 2020
This week you can expect to have all meetings held virtually via live stream or Zoom. We will be posting videos and challenges on social media throughout the week. We love seeing what you guys come up with!
Tonight's Eschatology class will be via Zoom; please ensure you are registered so that you can get the Zoom invite.
Parents, you should have received an update on Youth Group happenings by now. If not, please contact Blaine.
Wednesday night Intercessory Prayer will be not be meeting in person. Please feel free to pray at your own home.
Friday morning Men's Bible Study will be held via Zoom. Be on the lookout for an invite.
This weekend's Youth Date Night Babysitting event is cancelled. We will reschedule after normal operations resume.
Next week's Men's Hike Prep meeting will be held via Zoom. Ryan or Andrew will send out invitations.
Sunday service and next Tuesday prayer will be live stream only again. Please click the button above to tune in.
---
23 March 2020
Due to Governor McMaster's recent order issued this afternoon restricting gatherings outside of the home to no more than 3 people, we are making tomorrow's Tuesday morning prayer LIVE STREAM ONLY.
Click the button above to be redirected to the stream.
Our Youth Pastor will be contacting parents to update you with plans for Youth Group.
Eschatology class is pending. We hope to have our plan for this meeting out to you tomorrow mid-afternoon.
We apologize for any inconvenience this causes. If you have any questions or concerns, please reach out to us at officeadmin@newday.church
You can stay updated through your New Day App, here on the website, emails, and social media.
---
21 March 2020
Good afternoon church! Service tomorrow will be live streamed. Click here or on the button above to tune in live.
Starting at 9:45 you will be able to hop on to our New Day Community Church Facebook page or YouTube. Our Kids Ministry Pastors will have a video for the kids to watch before the service goes live. You'll be able to watch the video of the service after it ends so no need to worry if you miss it.
Next week we plan to continue to put out lots of encouraging, uplifting, and fun content for you guys. Remember to take everything as it comes and be productive, be positive, and be playful!
---
19 March 2020
What at week it has been!
We have been having a lot of fun making videos for you guys, we hope that you have been enjoying them and they have been lifting your spirits.
Here are a couple of updates to bring you through the next few days and the weekend:
1. Men's Bible Study is happening tomorrow! We will be having the meeting at the Church Office as usual but we will also be hosting it virtually to enable those who do not feel comfortable, or cannot attend for whatever reason, to attend. Please go to https://zoom.us/j/398989481 and use the meeting ID 398 989 481 to join in. If you are on an Apple device you may be prompted to download the Zoom app prior to joining the call.
2. Jitterbugs Dance scheduled for Friday will likely be cancelled.
3. Sunday Service will take place virtually via live stream. We will provide more details tomorrow.
__________________________________________________________________________
What would you do if Jesus showed up in front of you with a special message?
Jesus came to one of our head pastors, Stephanie Jones, recently and said "Everybody relax and take everything as it comes." When Stephanie woke up she thought... 'is that it?' but then began to wonder 'what is coming?'.
Now that we are in this Coronavirus crisis, Stephanie wants to encourage us to relax and take it as it comes.
Throughout the book of Matthew we see exactly what Jesus shared in Stephanie's dream. Our Father in heaven knows ALL that we need and He will take care of us! Jesus says before the end, plagues will come, wars will come, troubles will come into the world. Then, he encourages the disciples to be brave, be courageous for He has overcome the world, and he promises to give us peace that surpasses understanding.
We pray that you have peace in the troubles and are able to relax. It doesn't mean we won't face troubles; but, in the midst of everything, Jesus promises to be with us. Jesus died on the cross because we as the human race have been separated from Him and He was sent to bring us back into relationship with the Father.
You don't have to go through this without the peace of God carrying you through.
Click here to see more and hear more about Stephanie's dream.
---
18 March 2020 Update
Intercessory Prayer at the Church Office is cancelled for tonight.
If you haven't seen the videos we have been posting head over to YouTube and check them out! We have lots of encouragement, challenges, activities, and fun stuff coming your way DAILY over the next couple of weeks!
---
17 March 2020 Update
Youth group will be held via Zoom.
Eschatology class for tonight is cancelled; we will have an alternative option for next week.
Women's Bible study will be held via Zoom.
Men's Bible study will be held via Zoom.
SUNDAY service will be virtual (Live streamed) ONLY.
There will be daily videos, challenges, and fun things being posted throughout the week. Watch, join in, and have fun! Updates will be posted here on this page, on Facebook and Instagram, and via email.
If you find yourself unwell and/or unable to get help contact anyone on staff and we will do whatever we can to support you. Email us at contact@newday.church.
---
16 March 2020 Update
We are working on a course of action for weekly church events and will update you with the plan for this week tomorrow afternoon.
In the meantime, we DO plan to have 9:00 AM Tuesday prayer at the church office. If you are feeling healthy and well we'd love to see you there. Childcare will be available. If you are practicing quarantine, or would rather stay home, we will be live streaming so that you can still tune in and participate from home.
We will be updating everyone via email, here on the website and app, and on social media so keep an eye out!
---
14 March 2020 Update:
Hello New Day family,
As we continue to hear updates about COVID-19 we wanted to keep you informed regarding our best practices at New Day and to offer some words of comfort and encouragement.
We are continuing with our normal church schedule tomorrow morning. After considering many factors, including precedents set by state government and local school districts it seems appropriate to continue with our normal schedule. We do not want to be presumptuous. We want to be humble, taking steps of precaution including healthy practices and prayerfulness.

We will also be streaming our service tomorrow, featuring guest speaker Peter Jackson, on Facebook.

We encourage anyone who is feeling sick to stay home and join in via the live stream.

We will take steps to sanitize coffee and kids ministry areas regularly. Volunteers will serve coffee with gloves on. No snacks will be served tomorrow.

President Trump has declared this Sunday a national day of prayer. We will take time to pray along with all the family of God across the USA.

Our greatest hope is that all of this comes to nothing. However, in many places people are being affected by the virus. Many are being affected by restrictions or economic trials. All of this can cause fear. We are all being affected in some way by the drama. It is good to be sensitive to the fact that for some, this could hit home - even if it is someone they know from another state or country. Let's not come under fear. Let's remain positive. Let's continue to pray!
A few weeks ago Stephanie Jones had a dream that Jesus came to the church office and announced "Relax and take everything as it comes!" At that time, we were not sure how or why this dream applied, but now we feel that it applies to this scenario in particular.
RELAX AND TAKE EVERYTHING AS IT COMES sounds a lot like Jesus speaking in the gospel of Matthew 6 v 25-34. Do not worry about your life. Do not worry about tomorrow. The father knows. Let's stay close to Him and not be afraid.
Blessings,
Scott and Stephanie Jones.
---
12 March 2020 Update:
Dear New Day Family,
As our nation and global communities discuss how to best deal with(and help prevent) the spread of this virus, here are best practices New Day is embracing:

● Avoid close contact with people who are sick
● Stay home when you are sick
● Cover your coughs/sneezes with tissue or arm
● Wash your hands often with soap and water (for at least 20 seconds - the length of saying the Alphabet)
● If no soap and water is available, use an alcohol-based hand sanitizer with 60%-95% alcohol New Day is committed to providing safe and sanitized spaces for kids and volunteers. We will regularly disinfect our Kids spaces on these upcoming Sundays.

As followers of Jesus, we choose love over fear – perfect love drives out fear. We pray for those who have already been affected, their families, caregivers, and medical professionals working tirelessly to respond. We exercise caution so we can continue to represent Jesus and share the gospel with compassion and care.

Remember the promise from Psalm 91:5-7:
You will not fear the terror of night,
nor the arrow that flies by day,
nor the pestilence that stalks in the darkness,
nor the plague that destroys at midday.
A thousand may fall at your side,
ten thousand at your right hand,
but it will not come near you.

Here are some measures we are emphasizing during this time:


Changes to Our Greeting Time:

For the time being, when it comes to greeting each other in and out of service, we are encouraging our congregation to wave, smile, and show love from afar instead. This will help remove the pressure of having to shake hands and continue to promote healthy hygiene. Please feel comfortable to decline a handshake, hug, high five, etc. And please, respond to one another's personal feelings on the matter and accept their decision with gentleness and respect.


Changes to Our Offering:

In keeping with our effort to promote healthy initiatives, we will not be passing the basket for offering during this time. We invite everyone who comes prepared to give on Sunday mornings to continue to do so. We will have offering baskets available at the front on both sides of the stage, as well as one basket at the back table ready to receive your tithes and offerings. We believe that this is the best way to allow members of our church who enjoy the physical act of giving to continue to do so in a healthy and sanitary way. The easiest and safest way to give is online, which many of us already do. Details can be found at newday.church.


Cancellations:

At this point we do not plan on cancelling any meetings. We will continue to watch, pray and consider further actions.

Finally, we need to join together in the spirit of prayer for the people who are working diligently and responding to their calling by caring for those who are sick, for those who are suffering around the world, and for the areas in the world where this virus is causing major upheaval. Pray for competent leadership in the public health sector. And pray for safety and protection for South Carolina.

In love,

Scott and Stephanie Jones